Ocean Select Seafood is a family owned and operated company located in the heart of South Louisiana. Our foundation is a legacy of success in the seafood industry, a powerful set of values and a lot of love for what we do.
Bought by the Guidry family in 1991, Ocean Select is a natural extension of our original – and still very successful – family business, Guidry's Catfish, which was founded in 1976. Ocean Select gave us the opportunity to offer more products, expand our production capacity and grow our service area. What began with just a few employees and a single delivery truck when we first purchased Ocean Select has grown into a large business capable of producing over 60,000 pounds of product a day.
Our passion since 1991 is to build strong customer relationships through honest business practices, a knowledgeable, friendly and helpful customer service team, and outstanding products at competitive prices.
Ocean Select produces some of the best tasting seafood Louisiana has to offer, including our well-known brand, Louisiana Select Foods, a trusted name in frozen seafood. Whether its Gulf shrimp, Louisiana grown crawfish or U.S. farm raised catfish, our premium seafood products are the freshest around.
We offer products tailored to the retail as well as the food service industries, and currently serve over 1500 customers in the Southeast region of the United States. Our vision is to continue expanding across the country by reinvesting in our people, products and innovative technology.
Our Facility & Capabilities
Ocean Select operates out of a 100,000-square-foot facility with our sister company, Guidry's Catfish. Using the latest and most advanced equipment on the market allows us to provide consistent quality on a large-scale volume.
Our fully integrated, advanced production software gives us excellent traceability on our products and improved production visibility in real-time.
Every step of our process is temperature controlled and monitored to ensure only the freshest tasting products are packaged from our production lines.
Our 12,000 pound per hour spiral freezing capacity and 3,000-pallet cold storage warehouse gives us the ability to produce and stock a multitude of different seafood options and offer customers the convenience of ordering from a single source
Our customers deserve the best tasting products that are processed with our high standard of quality and their safety as priorities.
We have cultivated longstanding relationships with our supplier network, some of the most respected fishermen, shrimpers and crawfish farmers across Louisiana and from carefully sourced U.S. specialty seafood importers, to ensure the quality and freshness of our seafood.
We operate under the strict food safety and quality guidelines set by the FDA and the USDA.
We are BRC certified for meeting global standards for safety, quality and operational criteria for food producers and suppliers.
Our Louisiana-sourced products are certified as "Authentic Louisiana Seafood" by the Louisiana Department of Wildlife and Fisheries.
Every step of our process is temperature controlled and monitored to ensure only the freshest tasting products are packaged from our production lines.
Our onsite food safety and quality team monitors and tests our products to ensure they measure up to the strict food safety and quality standards we have set.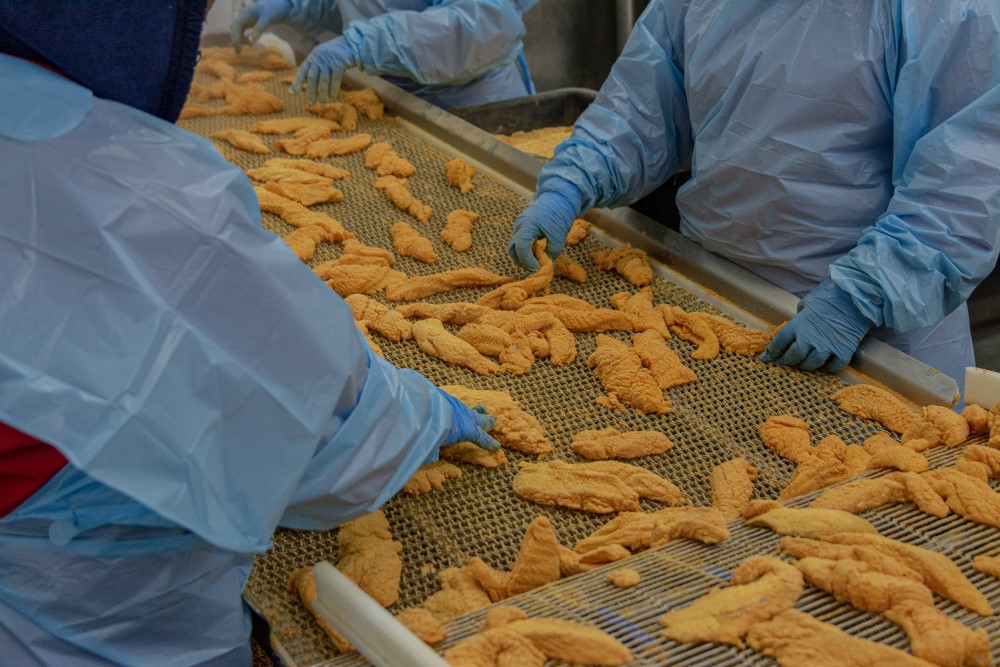 Ocean Select is growing! Our new, state-of-the-art production facility will be completed in 2023. This 55,000-square-foot expansion will house several production lines capable of custom coating and packaging, as well adding par-frying options. This expansion will open up new markets and opportunities for us, allowing us offer new and/or improved current products to our customers.